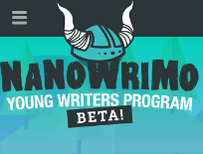 Welcome to the The New NaNo YWP Wiki!
Welcome to the new-new YWP wiki! This is the third, as the last one is outdated and the one before that is even more outdated. We got a new site, and have plenty of lore, new and old, to share! Welcome!
Link to the last YWP Wiki: http://whyiamblockedsir.wikia.com/wiki/NaNoWriMo_YWP_Wikia
What is it?
Since 1999, NaNoWriMo, also known as National Novel Writing Month, has been a successful website made for authors-in-the-making. In October of 2016, NaNoWriMo made a new, updated website called the Beta site of the previously existing NaNoWriMo YWP (Young Writers Program). Here, writing enthusiasts 18 and under can write, complete goals, challenge friends to word wars, and roleplay with their fellow future authors!
Latest activity
Community content is available under
CC-BY-SA
unless otherwise noted.